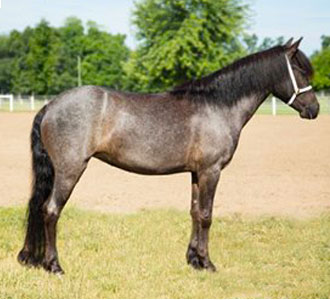 GEWELS
GEWELS
(Admiral Shalloway X
NNP Queen E)

Breed: Newfoundland Pony
Foaled: May 10, 2009
Gender: Mare
Color: Blue Roan
Height: 12 HH
Owner: Carissa Holinaty
Training Level
: Intermediate Driving and Intermediate RidingGewels is our 1st Newfoundland Pony we purchased in 2014 as a 5 year old.Ā  We trained her to drive and ride with the help of Grace Wizniak and Elele Fatteicher as the jockeys.Ā  Then her debut show was in 2016 at the Equus Survival Trust Festivale of Endangered Equines & SANA Rare Breeds Show in Lexington, VA where Grace and I showed Gewels in 13 classes.Ā  She couldnā€™t have made us more proud placing in 12 of those classes, and winning Reserve Champion Open Pony under 2 UK judges.Ā  Everyone there started calling her the ā€œunflappableā€ pony as they were so impressed with her calm demeanor and taking everything in stride for her 1st show.
After that show, we gave her time off from the show ring to be a broodmare, as we bred Master to her before he was gelded.Ā  They produced a sharp looking bay colt who found his new home in Moose Jaw, Sk., where he will become part of an Equine Assisted Learning program.
Last summer, Gewels returned to the show ring with my youngest niece, Annika, as her handler.Ā  They competed in showmanship, leadline, walk/trot western classes, costume class and gymkhana events.Ā  These two have started to develop a strong bond, and we look forward to watching them shine in the show ring this summer!
---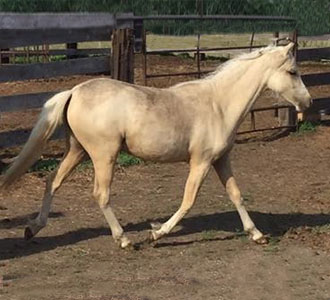 CRYSTAL SPRINGS GOLD TETRALOGY
CRYSTAL SPRINGS GOLD TETRALOGY
(Crystal Springs Capt Valiant X
Cleghorn Golden Slippers)

Breed: Section A Welsh Pony
Foaled: April 30, 2016
Gender: Mare
Color: Palomino
Height: TBD
Owner: Carissa Holinaty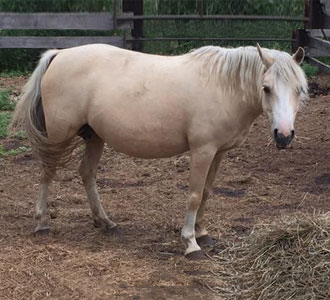 CLEGHORN GOLDEN SLIPPERS
CLEGHORN GOLDEN SLIPPERS
(Flying Diamond Gold Fire
X Cat Creek Daze Treasure)

Breed: Section A Welsh Pony
Foaled: May 24, 2004
Gender: Mare
Color: Palomino
Height: TBD
Owner: Carissa Holinaty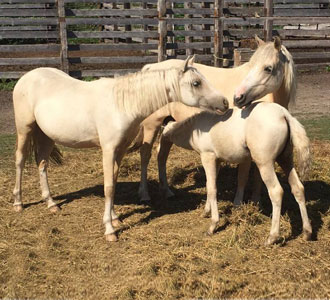 CRYSTAL SPRINGS LADY SLIPPER
CRYSTAL SPRINGS LADY SLIPPER
(Crystal Springs Capt Valiant X
Cleghorn Golden Slippers)

Breed: Section A Welsh Pony
Foaled: April 22, 2015
Gender: Mare
Color: Palomino
Height: TBD
Owner: Carissa Holinaty