At C Armr Ponies we choose to breed one pony at a time in order to invest adequate time and training into our ponies so they have a strong foundation which leads to a bright future. We expose the pony to various experiences on and off the farm while having children handlers as much as possible while under adult supervision. Our ponies go through a training program where their physical and mental development is the focus. The following is a brief outline of where our ponies training would be at based on their age:
Foal – Intro to the halter, leading and tying
Weanling – Weaned at 5 months 1 day (Our ponies could be sold any time after)
Yearling – Groundwork and Intro to Lunging
2 yr old – Showing In Hand
3 yr old – Long Lining and Ground Driving
4 yr old – Driving Single
5 yr old – Driving Double
6 yr old – Riding
We are currently looking for a quality stallion to breed our Section A Welsh Pony, Cleghorn Golden Slippers in the spring of 2021.
Not only do we want to preserve the genetic diversity within Welsh Ponies and Newfoundland Ponies we also donate 10% from our sales to the respective breed organization of the pony for sale. These organizations spend hours promoting the breed and bringing awareness to others about the breed's history, characteristics and versatility. It is important that these organizations get support in order to make sure the pony is protected and preserved in Canada.
If you are interested in owning a Canadian Heritage Breed while at the same time supporting a great organization, check back with us in the fall of 2022 for sale prospects!
In the meantime, becoming a member of the breed organization is a great way to get involved even without owning a pony!
Become a member of the:
Manitoba Welsh Pony & Cob Association
---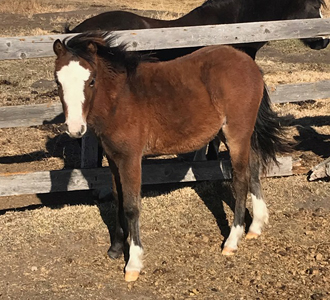 C ARMR BARRITUS
C ARMR BARRITUS
(Sudans Little Mr Independant X
Gewels)

Breed: Welsh/Newfoundland Pony
Foaled: March 17, 2018
Gender: Colt
Color: Bay
Height: TBD
Owner: Carissa Holinaty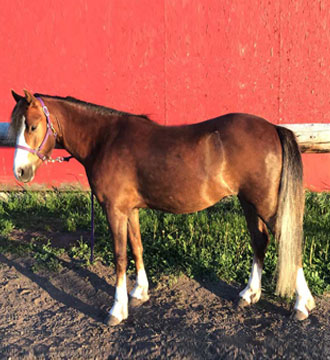 C ARMR ALALA
C ARMR ALALA
(Sudans Little Mr Independant X Cleghorn Golden Slippers)

Breed: Section B Welsh Pony
Foaled: July 11, 2017
Gender: Mare
Color: Chestnut
Height: 12.1 HH
Owner: Carissa Holinaty