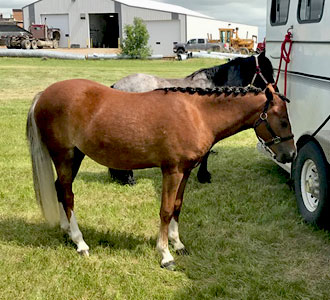 C ARMR ALALA
C ARMR ALALA
(Sudans Little Mr Independant X Cleghorn Golden Slippers)

Breed: Section B Welsh Pony
Foaled: July 11, 2017
Gender: Mare
Color: Chestnut
Height: 12.1 HH
Owner: Carissa Holinaty
This registered Welsh pony is a 3 yr old filly who currently stands at 12.1 HH.
She is very quiet, loves people, and has a beautiful flaxen tail!
She has solid ground manners and does walk, trot, and lope on the lunge line and has started her long lining and ground driving training.
She is great for bathing, clipping, loading, and gets her hooves trimmed every 7 weeks.
She was shown last summer and always nailed her showmanship pattern. It was her first time off the farm and nothing phased this girl at a young age.
10% of her sale will also be donated to the Manitoba Welsh Pony and Cob Association. Support a great organization and get a pretty pony all at the same time!
Click An Image To Enlarge
---
Recently Sold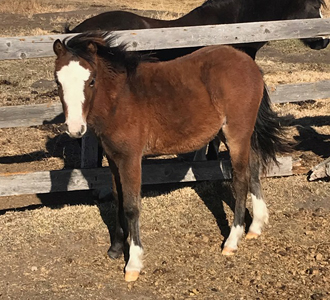 C ARMR BARRITUS
C ARMR BARRITUS
(Sudans Little Mr Independant X
Gewels)

Breed: Welsh/Newfoundland Pony
Foaled: March 17, 2018
Gender: Colt
Color: Bay
Height: TBD
Owner: Carissa Holinaty