---
Crystal Springs Valiant Spirit
Barn Name: Casper
Training Level: Beginning Driving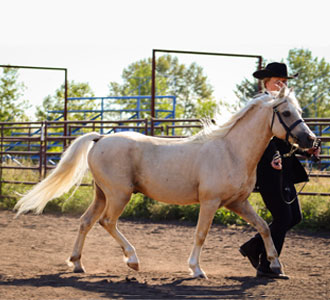 After purchasing Cleghorn Golden Slippers in 2015 and having her foal in the spring of 2016 with an identical palomino filly to our 2 yr old and yearling of the same breeding, we learned there was a 4th offspring of hers with the same crossing, Crystal Springs Valiant Spirit.
We really like this cross and knew we had to purchase Casper, as we are wanting a 4-pony hitch to drive.
It is always a challenge to find a matching pair for driving, let alone finding 4 identical full siblings close in age! So, we contacted his owners and purchased Casper in 2016.
He is a very vocal stallion but has great ground manners and we took him to his 1st show in 2021 for in hand classes.
We look forward to continuing his show career and hope to drive him in future classes, as we have started ground driving Casper.
Since all of the Welsh mares we own are related to Casper, he is open to the public for breeding services. Casper's offspring so far have been palomino, chestnut, black, and bay roan.
---
Canaan's Brigus
Barn Name: Brigus
Training Level: Beginning Driving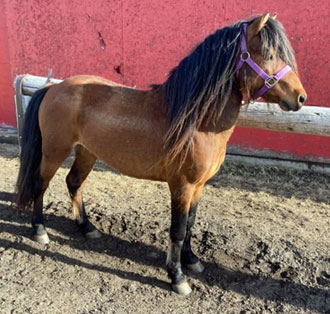 When we purchased Gewels we knew the importance of eventually breeding her, since the breed is critically endangered. As there are only 10 foundation stallions in the breed it is a challenge to find a stallion that has different bloodlines than Gewels to cross her with. So, when we heard that Brigus was for sale we jumped on the opportunity to buy him.
We got him transported from Prince Edward Island in 2021 as a proven stallion. He has had 100% fillies so far and has produced bay and chestnut foals.
He carries the lines of Dancey, Red October, and Vinland's Rusty of the Black River.
Brigus is a quick learner and such an attention seeker, we can't wait to see how he stamps his foals!