Carissa Forsberg
Carissa lives in Southey, Sk and is the owner of C Armr Ponies. She was inspired to raise endangered ponies by her Grandma Genevieve Kurtenbach, who raised Welsh Mountain Ponies and was also one of the founding breeders of the rare Canadian Rustic Pony.
Carissa wants to continue to pass on the knowledge she got from her Grandma to the next generation. She has ridden and driven a lot of amazing ponies over the years and wants others to experience how wonderful ponies can be.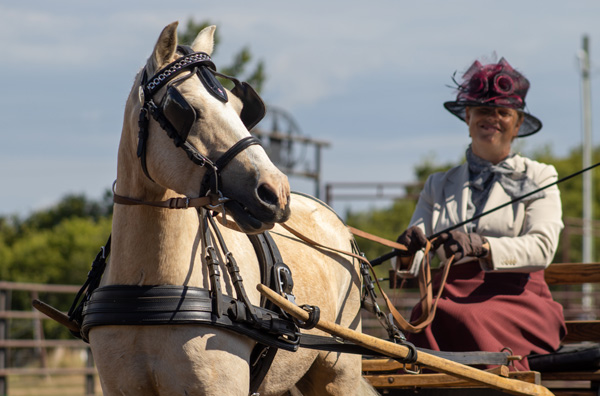 As the trainer at C Armr Ponies, Carissa knows the key to developing a well-trained pony is exposing them to various experiences on and off the farm with children handlers under adult supervision.
She strives to train all her ponies for both riding and driving. This will ensure that the pony can be used by the whole family, reducing the need to re-home the pony once the child has outgrown it.

As Carissa is a high school teacher, she knows the importance of continuous learning. She is always looking for opportunities to enhance her skills, especially for driving, as that is her favourite discipline.
She loves attending all events, whether that is clinics, trail rides or shows. You will always find Carissa enjoying her time out at the barn with her ponies and nieces or neighbour kids by her side.
---
Ava Holinaty
Ava is Carissa's 13 year old niece and from the time she was a toddler she wanted to be with the ponies. She went to her 1st horse show when she was 2.5 years old where she did showmanship and leadline with their Section A Welsh mare Voo Doo. Since then, there has been no looking back.
Ava learned to ride and show with Voo Doo until her passing in 2018. Then they gelded their Section B stallion, Sudans Little Mr Independant, for Ava to ride and drive at the shows.
As Ava is growing, she is now too big to ride the small ponies and transitioned in 2021 to riding her Section D Welsh gelding, Kelly Acres Scandal Sheet.
Every chance she gets, Ava is either out at her Grandparents' farm in Esterhazy with the ponies or her Aunty's farm in Southey. When she is back home in Saskatoon, she plays with her collection of Breyer horses and watches Heartland; she is one pony crazy girl!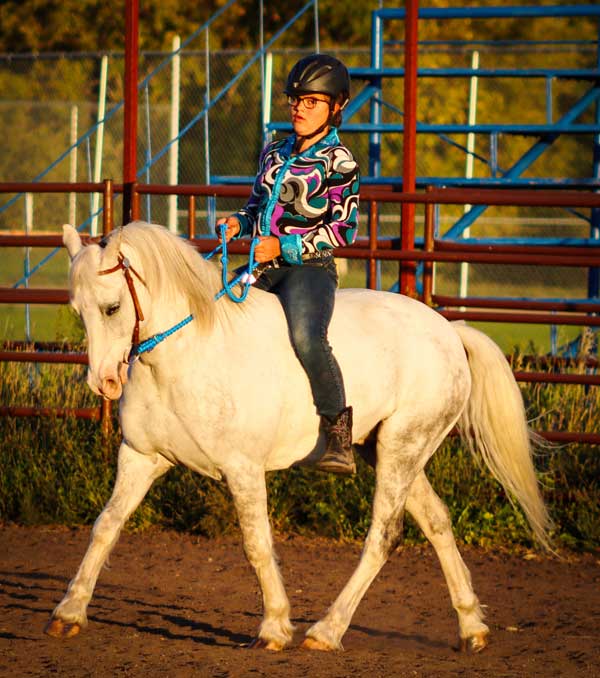 ---
Annika Holinaty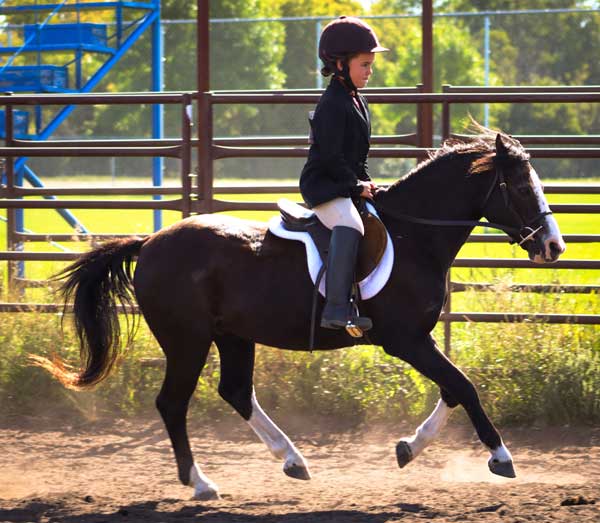 Annika is Carissa's 10 year old niece who also enjoys being on the farm and riding the ponies with her big sister.
She was at her 1st horse show at 6 weeks old watching Ava compete, and has been coming to the shows ever since.
Once she was big enough to start showing she used Gewels, their Newfoundland pony in showmanship and leadline.
Over the years she enjoyed riding and showing their Section A Welsh mare Voo Doo but she always goes back to her favorite pony, Gewels. Those two have a special bond and it is exciting to watch them, whether it's in the show ring or out riding on the trails.
However, Gewels now has an important job being a broodmare as her breed is critically endangered and so in 2021 Annika's new mount was their Section B gelding, Sudans Little Mr Independant. Annika was excited to show him as she got to learn how to ride English and Pleasure Driving too.
---
Cecelia Forsberg
Cecelia is the newest member of the team, being born on April 22, 2023.
She has already been given her first western saddle from her Great Uncle.
Carissa cannot wait to watch her daughter grow up with the ponies.
Cecelia's first leadline pony will be their Section A Welsh mare, Cleghorn Golden Slippers.