Barn Name – "Master"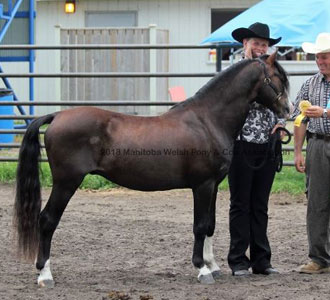 SUDANS LITTLE MR INDEPENDANT
SUDANS LITTLE MR INDEPENDANT
(Homestead Kickstart X
Carefree Lynda's Linndy Lou)

Breed: Section B Welsh Pony
Foaled: April 23, 2003
Gender: Gelding
Color: Chestnut
Height: 12.1 HH
Owner: Carissa Holinaty
Training Level:Â  Seasoned Driving and Intermediate Riding
Master was our 1st Welsh Pony stallion that my brother, Cardell, purchased as a weanling.  He hadn't been handled until we purchased him, and what a perfect pony he became.  He knows he is one of the favourites and loves all the attention.  After being shown as a yearling by us he went on to sire 5 registered Section "B" welsh ponies and numerous part bred ponies as well.
Over the years we have trained him to drive single and double, and now he is used to build up the confidence in our youngsters learning to drive as a team.
With his amazing disposition he really is the perfect child's pony and we chose to geld him in the spring of 2018.  Two months later, my nieces were riding him and doing very well in the show ring.  Ava has really connected with Master and will continue to show him in hand as well as under saddle in the western divisions and gymkhana events.
Last summer, Ava won her 1st trophy in the showmanship class with Master.  She also made her debut in the driving classes with Master listening very attentively to her commands.  She also got a lot of positive comments from the judges on his movement, and that he would look spectacular as a hunter pony. Ava has decided that she would like to show him English this summer too.
---
Barn Name – "Scandal"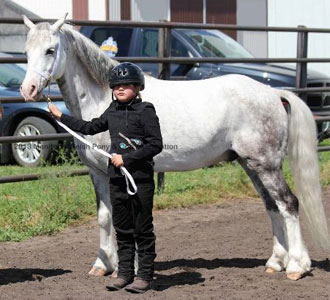 KELLY ACRES
SCANDAL SHEET
KELLY ACRES
SCANDAL SHEET
(Mi Bare Essentials X
Kelly Acres Pillow Talk)

Breed: Section D Welsh Pony
Foaled: May 26, 2006
Gender: Gelding
Color: Grey
Height: TBD
Owner: Chantel Holinaty
Training Level:Â  Intermediate Driving and Intermediate Riding
Scandal was enrolled in our harness program in 2017 where my niece, Ava, fell in love with him. She is obsessed with heavy horses and said he looked like a heavy horse with all his feathers.
Scandal's owners were looking to sell him once he completed the harness program, and Ava was so sad that she would never see him again. However, little did she know that he was actually bought by family for her and Annika as a Christmas present!
Scandal is quite nervous around adults, but, like most ponies, relaxes when the children work with him.  He was bought to be Ava's transition pony as she moves up from riding the smaller ponies.
In 2018, we put Scandal on the show line up so we could start getting him accustomed to the hustle and bustle of the shows. This summer, Ava had spent time training Scandal at home as she focused on just using one pony in all her events. As Ava is growing like a weed, she will have Scandal back in the show ring again this summer for in-hand and obstacle classes, with a goal of riding by fall.
---
Barn Name – "Comet"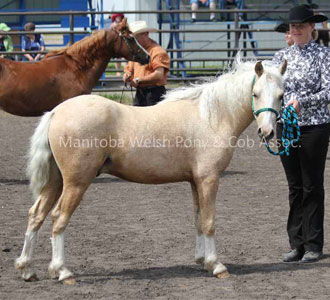 CRYSTAL SPRINGS
VALIANT COMET
CRYSTAL SPRINGS
VALIANT COMET
(Crystal Springs Capt Valiant X
Cleghorn Golden Slippers)

Breed: Section A Welsh Pony
Foaled: January 3, 2014
Gender: Gelding
Color: Palomino
Height: 12.1 HH
Owner: Carissa Holinaty
Training Level:Â  Beginning Driving and Beginning Riding
In the fall of 2015 we were on the hunt to add another quality Section "A" broodmare to our herd, and lo and behold we ended up bringing home not just one pony, but three with one foal on the way!
One of the unexpected ponies that we bought was the broodmare's yearling colt, Comet.  From the moment he saw us, he came over to meet us.
He loves attention and we decided to put him on our show line-up for 2016 for in-hand classes.
He is a very responsive pony and at his first show he won first place in the in-hand obstacle class.
Since losing my Section "B" driving gelding, Mr Yankee Doo in 2018, I have now chosen Comet to be my new driving gelding.  We have put a solid start on his ground driving, and plan to hook him this fall/winter in preparation for his driving debut in the beginning of July at the Manitoba Welsh Pony Show.